Edmonton winters are long and cold! Don't risk the chance of not having the best plumbing and heating company in Edmonton on your speed dial for when you will need it most. The chance of Garage Heater breakdown in Edmonton during the extreme cold winters is quite high and can happen during any time of day. Go 2 Plumbing and Heating offers the most reliable 24 hour emergency plumbing and heating service in Edmonton and surrounding areas (Sherwood Park, Spruce Grove, Leduc, Beaumont, Fort Saskatchewan, Stony Plain and St. Albert).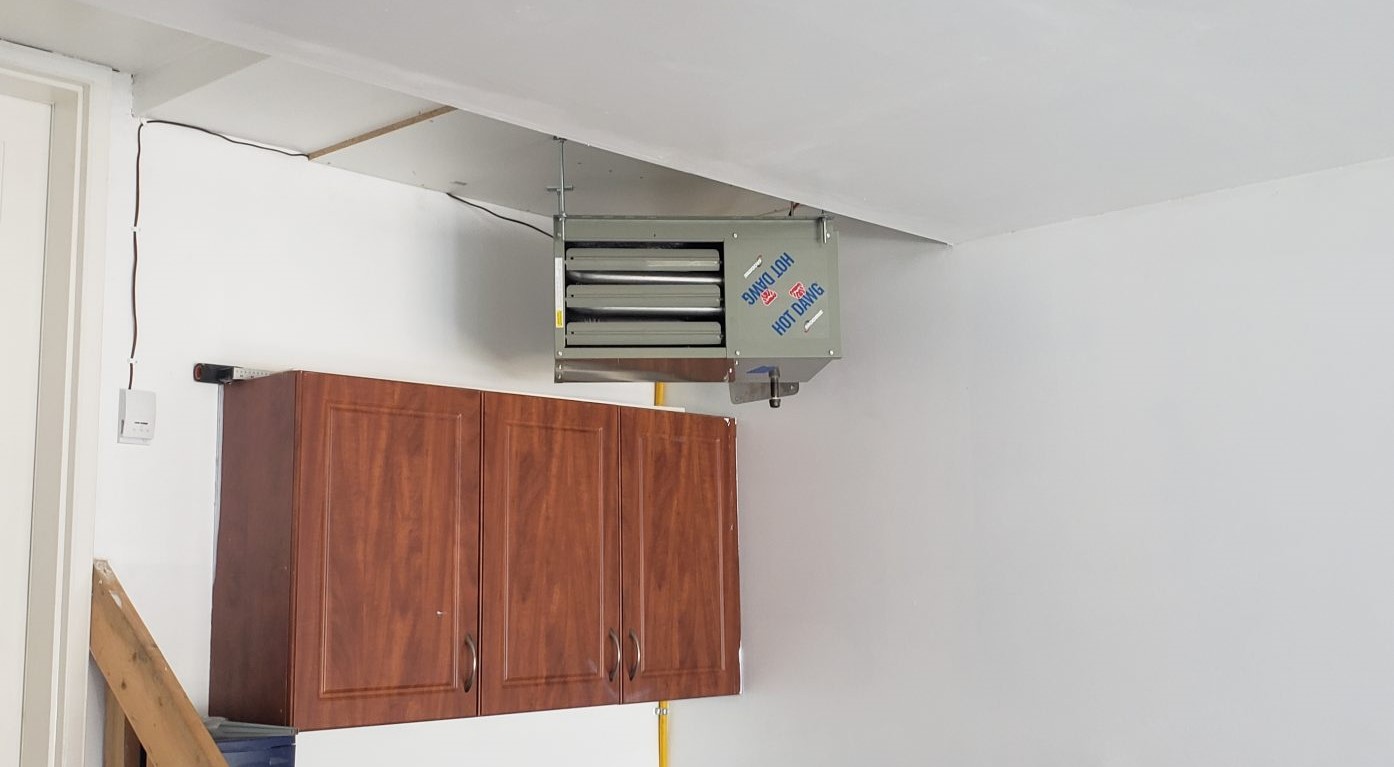 Garage Heater Installs in Edmonton
Are you sick and tired of having to warm up the vehicle during the cold winter months or scrape that stubborn ice build-up off the windshield in the morning or wait 6 months for the weather to warm up so you can work on your project car? If so, look no further for your warm garage solution. Go 2 Plumbing and Heating has the best plumbers in Edmonton to install the most dependable and affordable Garage Heaters in Edmonton.
Need an emergency plumber in Edmonton ? Call Go2 Plumbing & Heating at (780) 850 8817 and enlist the help of a qualified plumbing expert.
Garage Heater Repair and Install In Edmonton
You are well aware of the fact that Edmonton witnesses the coldest and longest winters of any metropolitan city globally. Such winters can cause a tally on your vehicles. So, it is better to install heat in your garage. For the same, you can opt Go2 Plumbing and Heating. Well, this company will help you escape from getting into the freezing car in the morning. Garage Heater Repair and Installation in Edmonton is quite affordable at Go2 Plumbing and Heating. The company has a trained team who pays a visit to your garage and helps to either install or repair the garage heater. Our company helps to beat the winter in Edmonton by installing any one of the below-mentioned types of garage heating systems i.e. Unit heaters, Tube heaters, or In-floor heating.
Go2 Plumbing and Heating believes that heating your garage is a good idea, particularly here in Edmonton, where the cold winters can roll a number of your cars. The top-most benefit of installing a garage heater is it makes a better environment for your vehicle in the winter. Garage heater installation also cuts off the chill environment so that you can constantly use the garage as a workroom or studio. Go2 Plumbing and Heating makes sure that the installation of a residential garage heater offers its clients comfort.
With our garage heater installed, your workshop remains warm all year round thereby eliminating condensation that might damage your tools. Anyone who lives in or around Edmonton can choose our 'Garage Heater Repair and Install' service. Go2 Plumbing and Heating' technicians are happy to offer you 24*7 professional, methodical, and affordable garage furnace installation services. You can always choose our services for gas garage heater installation, hanging garage heater repairing, or garage heater maintenance. The technicians at Go2 plumbing are highly experienced and knowledgeable to get the job done right. All in all, Go2 plumbing, we are committed to providing our customers with cost-effective prices for quality workmanship.
If you are experiencing any of the following garage heater issues in Edmonton and surrounding areas, call the best Plumbing and Heating company in Edmonton today!
No heat
Annual garage heater maintenance
Garage Heater Services in Edmonton
New garage heater installs
Blower motor replacement
Inducer motor replacement
Igniter replacement
Flame sensor replacement or cleaning
High limits
Circuit board replacement
Pressure switch replacement
Garage heater tune-up
Modine Hot Dawg
Cayenne
Reznor
Lennox
Brut
Call us at 780-850-8817 or contact us online. We are available 24/7 for your plumbing emergencies.