Top-Rated Edmonton Plumbing Services
No matter what you need, you can always count on Go 2 Plumbing & Heating to save the day. Our licensed professionals carry years of experience in the industry. Our same-day services come with absolutely no hidden fees. Stop stressing over that leaky toilet. Sit back, relax and let us do the dirty work for you!
1 1
Customers who call on us need not worry about durability and loyalty. So, complete peace of mind and confidence is offered on behalf of the company. Have a look at the variety of Go2 Plumbing services. Servicing boilers, repairing central heaters, plumbing repairs, eliminating sludge and remnants from pipes, power flushing to remove dirt from radiators, gas/ LPG dwelling, installing oil heating system and underfloor heating, etc.
The main mission of the company is to provide a hassle-free plumbing process and so, customers can expect the proper arrangement of an appointment according to their time assurance. The plumbing contractors under this company carry the licensing and certification on-site for transparency. You can always choose Go2 Plumbing because we guarantee advanced pricing, surpassing workmanship, licensed and insured plumbing contractors, and 24*7 support from professionals.
The skilled plumbers hired on behalf of Go2 plumbing are knowledgeable and furnished with the latest tools needed to attain optimal results. Reliability, quality, and value for money are all the top features of the plumbing company. Positive ratings, reviews, and satisfied customers prove the superiority of the plumbing company. All in all, Go2 Plumbing and Heating provide free no-obligation surveys so that an excellent relationship is guaranteed.
1 1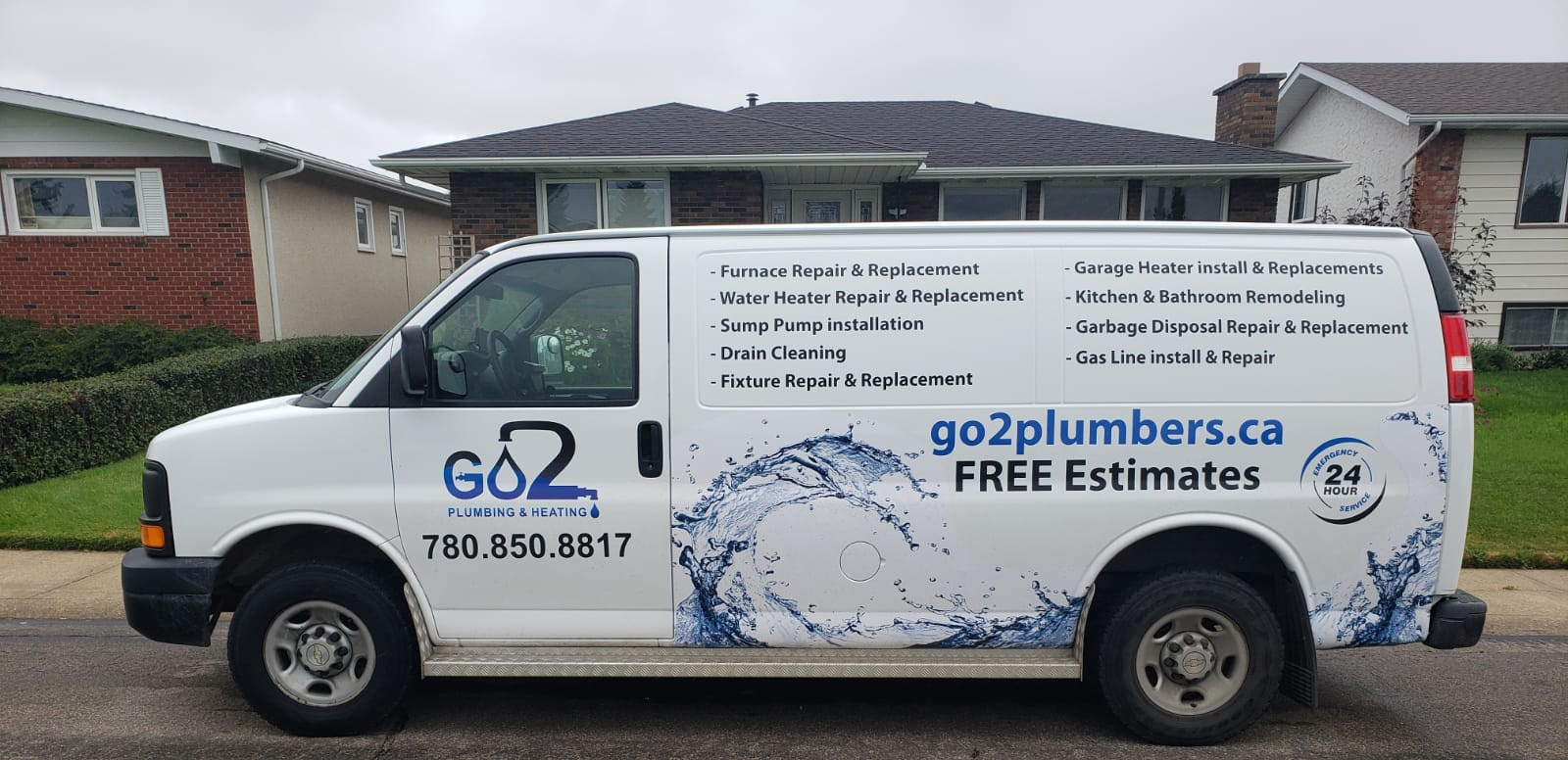 Need an emergency plumber in Edmonton ? Call Go2 Plumbing & Heating at (780) 850 8817 and enlist the help of a qualified plumbing expert.
Why Go2 Plumbing and Heating Edmonton Plumbing
– Flat Rate Pricing
When possible we price our work by job, not by the hour. You'll know the cost of work before we get started. In the event giving you an upfront cost is not possible due to potential unknowns, we explain the situation and are upfront with the work required.
– High-Quality Workmanship
Licensed, and highly-trained, our friendly plumbers follow all building codes and best practices. You can remain confident in us, as a plumbing contractor Edmonton residents depend on, to supply the best possible solution for your situation.
– We Beat The Competition
Bring us a written estimate from a local licensed plumbing contractor and we'll beat their quote by 10%.
Professional Edmonton Plumbers
Go2 Plumbing and Heating company serves all of Edmonton and surrounding areas (Edmonton, St. Albert, Leduc, Sherwood Park, Spruce Grove, Stony Plain, Fort Saskatchewan, etc.).
We are one-stop plumbing and drain contractor company specializing in drain installation, cleaning, and repair, plumbing installation, upgrades, and repairs. Our team of licensed and professional plumbers is an expert in Residential and Commercial plumbing solutions.
Knowledge & Experience
We have 9 years of experience to ensure your project is handled correctly. Contact us for a plumbing emergency, installation, repair, and inspection, and we will guarantee satisfaction.
Professional and Courteous plumbers
our Professional and Courteous plumbers conduct jobs with a minimum of disruption to your property, whether it's at your home or business. All our plumbers are insured, licensed, and trained to ensure your happiness.
Experienced Edmonton Plumbing Contractors
For more than a decade, Go2 Plumbing and Heating Edmonton plumbing ™ has been providing plumbing and drain services in Edmonton and surrounding areas (Edmonton, St. Albert, Leduc, Sherwood Park, Spruce Grove, Stony Plain, Fort Saskatchewan, etc.)
Our experienced team provides Residental, Commercial, and Industrial plumbing solutions. Our services include:
Repairing leaking or frozen pipes
Upgrading and replacing lead water service
Camera inspecting and drain cleaning or clogged drains
Basement flood prevention (backwater valves, sump pumps, waterproofing)
Specific commercial plumbing needs for restaurants, dentists, etc.
Backflow prevention valve testing, installation, and repairs
Installing and repairing sewers and manholes
Our plumbers arrive on time and provide high-quality workmanship. All work is carried out in a manner that provides the least amount of disruption for you. Our Edmonton plumbing company is fast, affordable, and friendly – our commitment to high-quality workmanship and excellent customer service beats out the competition. Give us a call and experience first-hand why our customers keep coming back.